Beading Classes
Enjoy personal, knowledgeable and fun instruction in our dedicated classroom.
Classes are kept small and taught by our patient and experienced instructors.




Payment is due at time of class. See below for class descriptions and times.
Please note: we try to provide "Class Bead Kits" to keep bead selection easy, when applicable. However, we are not always able to duplicate the exact colors shown in the pictures below. Ask staff for material requirements if you would like to use your own beads with the projects.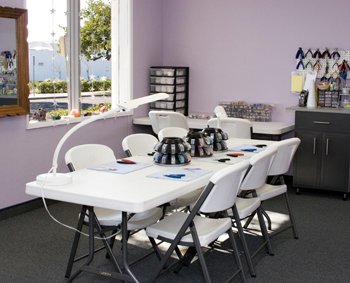 April 2019
---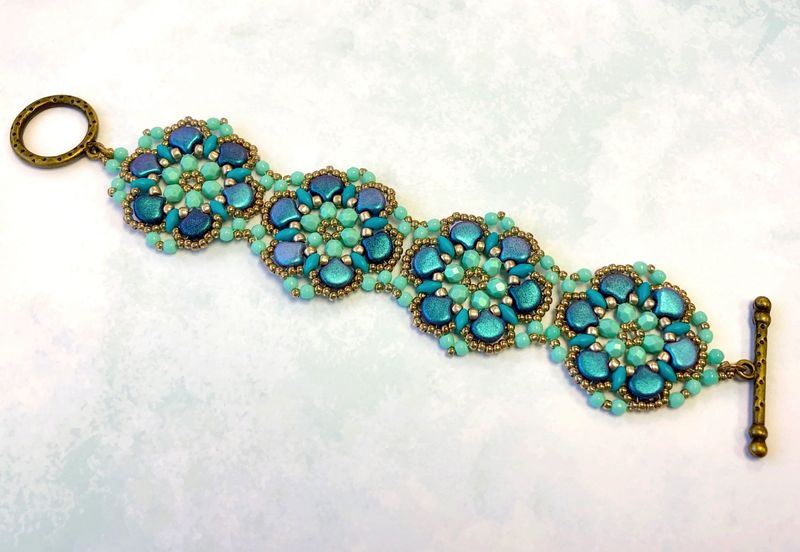 Rosette Bracelet $20 Class + approx. $25 Materials (no bead kit available)
Thursday, April 18th — 3:00pm-6:00pm
Stitch multiple "Rosette" motifs with the new Ginko beads, SuperDuos, 4mm beads, and seed beads, and then connect them to make a bracelet using a needle and thread.
Design & Pattern By Deborah Roberti, www.aroundthebeadingtable.com
Level: Intermediate
---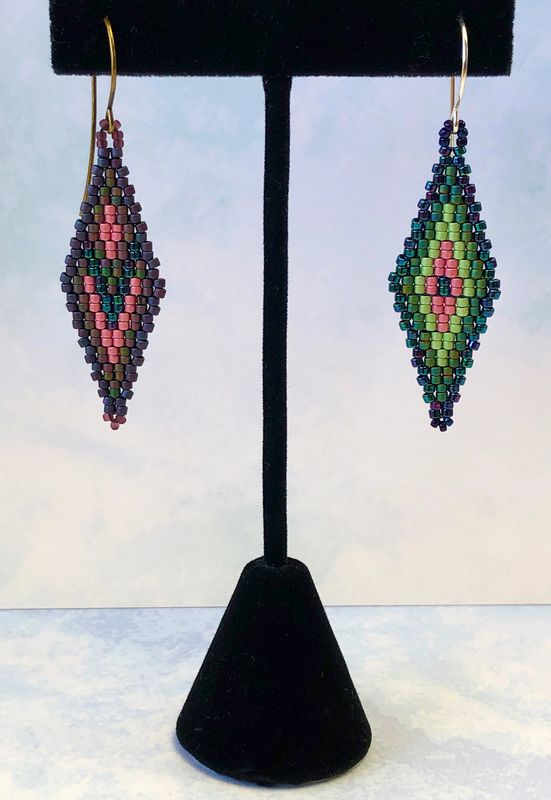 Diamonds of the Desert Earrings $15 Class + $16 Materials
Thursday, April 25th — 3:00pm-6:00pm
Create eye-catching diamond components with a variation of two-drop brick stitch, and Toho Niko cylinder beads. An assortment of small 1 gram packs of Aiko beads will be available for class use. 
Design & Pattern By Starman TrendSetter, Thomasin 'Alyx' Alexander
Level: Intermediate
---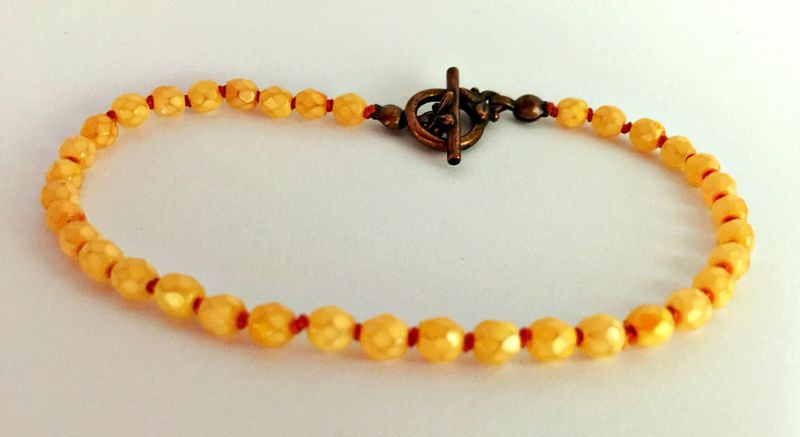 Basic Knotting $15 All Inclusive
Friday, April 26th—  Drop in: 4:30pm
Or 
Saturday, April 27th — Drop in:10:30am
Learn a traditional knotting technique using tweezers, and practice making a bracelet with Czech fire polish beads on silk cord . All-inclusive fee includes class instruction and provided materials. First come, first bead basis. No sign ups, just drop in promptly by 4:30pm Friday, or 10:30am Saturday.
Level: Beginner
---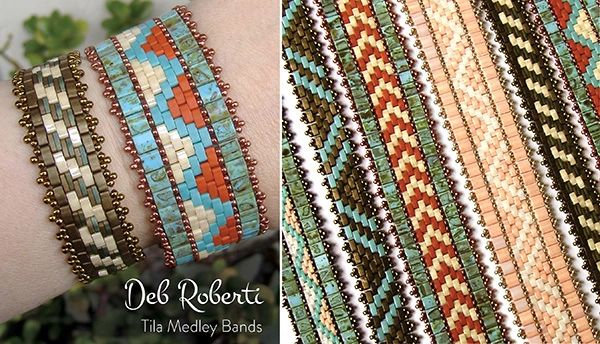 Tila Medley Bands $20 Class + $20-$40 Materials (no bead kit available)
Sunday, April 28th — 1:00pm-4:00pm
Play with all three sizes of Tila beads to create a medley of bracelets. A variation of 5 different bands are included in the instructions, using similar weaving techniques. Use one of the provided designs or draw out your own on the blank graph template. 
Design & Pattern By Deborah Roberti, www.aroundthebeadingtable.com
Level: Intermediate
---
Coming in June
...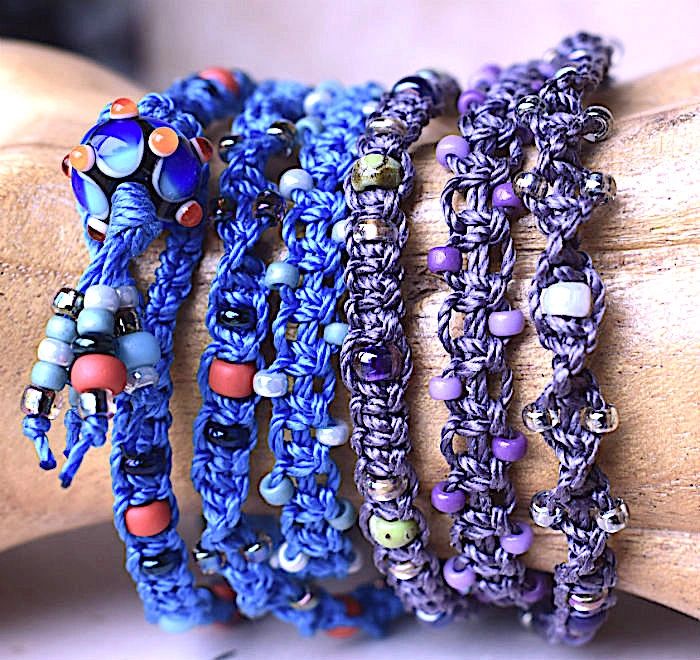 Macramé Wrap $40 Class + $18 Bead Kit
Sunday, June 30th — 12:30pm-3:30pm
Macramé has it's origins in the 13th-century. The knotting technique was used by sailors while at sea to make fishing nets, hammocks, belts and bell fringe and was then used to barter with when they came ashore. Today macramé is used for household decorations, jewelry and other fashion accessories.
In this class you will learn the 2 main macrame knots and use several different style beads to accent them with to create a sampler wrap bracelet. 
Pattern by guest instructor, Jeannine Mankins
Level: Enthusiastic Beginner
---
Coming in July
...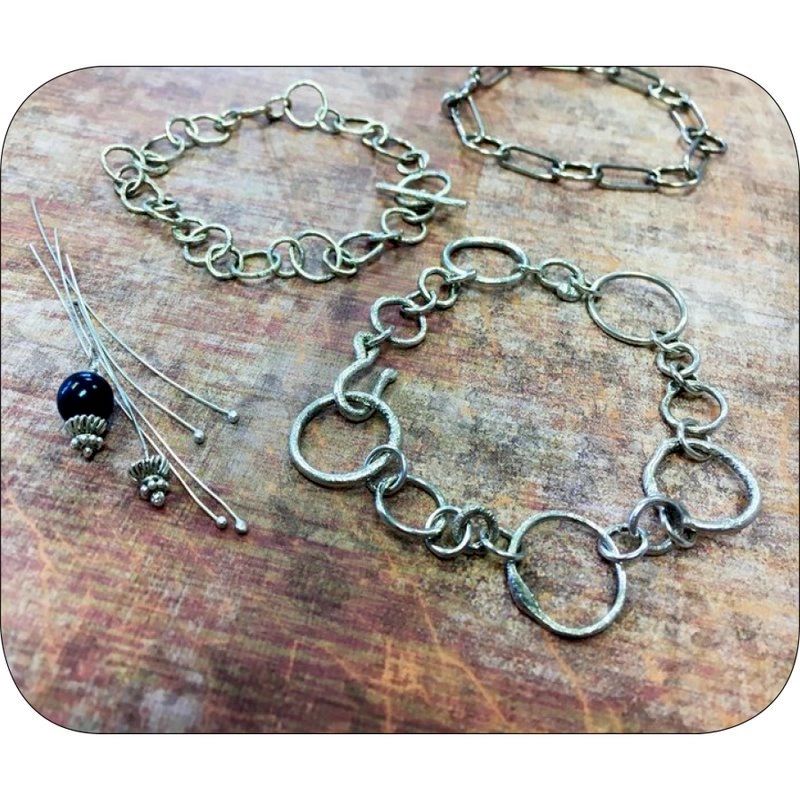 Intro To Soldering $100 Four Class Series +
$150 Materials & Tool Kit
4 Session Series: 
   Coming in July...
Joyce will take you through the steps to bring soldering into your jewelry making projects. Learn about safety while creating decorative headpins, making and soldering jump rings, and creating your own clasps.
Materials & Tools Kit includes the following premium supplies:
Micro Torch, Soldering Brick, Copper Tweezers, Thermal Tweezers,
Soldering Pick, Jeweler's Saw with Blades, Pickle, Flux, Solder, and Sterling Silver Wire.
Level: Beginner
This is a prerequisite class for future intermediate soldering classes at JBI.
---